Blue Denim Wrap Dress {Celle Qui Voyage}
The One That Travels
"A dress, an artist, a wife, a mother, a woman…
A moment on hold, a union between a woman and the elements.
The earth, the sky, and water, coming together to enhance the freedom of womanhood, just for a short story, laying somewhere between sensuality and simplicity.
Ireland, wild island, untamed, forever moving and changing, just as many facets making a woman who she is, making me who I am.
Free, wild, sweet, lonely, bold, brave, both strong and fragile all together.
The dress, it travels, it floats, it lives, it inspires, it moves you.
One dress, ten artists, ten interpretations, ten invitations to travel.
Will it be the dress or the artist making you travel?" -Caroline Liabot (group leader)
Celle qui Voyage
"Une robe, une artiste, une épouse, une mère, une femme...
Une parenthèse, une union entre la femme et les éléments.
La terre, l'eau et les airs, associés à la libre expression de la féminité pour une histoire éphémère entre sensualité et simplicité.
L'Irlande, île sauvage, indomptée, aux mille et une facettes, telles celles d'une femme, telles celles qui font de moi ce que je suis.
Libre, sauvage, douce, solitaire, audacieuse, forte et fragile à la fois.
La robe, elle voyage, elle flotte, elle vit, elle inspire, elle émeut.
Une robe, 10 artistes, 10 interprétations, 10 invitations à vous faire voyager.
Est-ce la robe qui voyage ? Ou bien est-ce l'artiste qui vous fait voyager ?
Bienvenue dans "Celle Qui Voyage" par Caroline Liabot."
"A short time with the dress, without really knowing where to go with it. It was long and short at the same time.

So I drew a list of techniques or angles that I could use or test. The dress would just be there to help and support me when the time came, just in case I lacked inspiration. It had no obligation or no other purpose. That list I drew was simply made of words, just words. No images in my head. I (almost) never leave for a shoot with images in my head. I hate that sensation and I do not know how to control it.

It requires too much of me. And also most of the time, when doing it, I end up being disappointed. But mostly, I am terribly afraid to miss something by focusing on the one idea I had, and I do not want to settle for just that one idea in my head.

Between what is planned and what isn't, I will always pick the unknown.

So as always, it all started from me, from the now, and from all the littles wonders from my day to day life that were happening right in front of my eyes. I just let myself be. And that's when I saw it. The light and shadows dancing on the wall. The morning fog when running with my dog. That tall tree in my garden. The dress on me, from above, seen from my eyes as I was walking with it. The sun rising up, making the last stars disappear. All was there. Just within a few yards from my home. Nothing more." - Morgane Malgat
"Ce temps avec elle, sans savoir où aller, c'était long et court à la fois. Alors j'ai commencé par faire une liste des techniques que je pouvais utiliser ou des points de vue que je pouvais tester. Elle me servirait juste d'aide, de soutien, en cas de manque d'inspiration le moment venu. Pas d'obligation aucune. Cette liste, c'était juste des mots. Seulement des mots.

Sans aucune image en tête. Je ne pars (presque) jamais avec des images en tête. Parce que j'ai horreur de cette sensation, et je n'arrive pas à la gérer. Ça me demande trop. Trop pour beaucoup de choses. Et puis parce que la plupart du temps je suis déçue. Mais aussi, et surtout je crois, parce que j'ai terriblement peur de passer à côté du reste en me concentrant, et en me contentant, de ce je peux avoir en tête. Entre le prévu et l'imprévu, j'ai toujours une préférence pour l'imprévu...

Alors comme d'habitude, je suis partie de moi, au présent, et des petits trésors invisibles de mon quotidien qui défilait sous mes yeux. Et je me suis laissée vivre. Et c'est là que j'ai vu. L'ombre et la lumière sur le mur en faisant des crêpes. Les étoiles et la lune qui se lève en faisant une pause à la fenêtre. Ah les fenêtres. La brume tôt le matin en allant courir avec mon chien. Cet arbre haut dans le jardin. Les trous dans mon portail. La robe sur moi, vu d'en haut depuis mes yeux, parce que je regardais où je marchais. Le soleil qui se lève faisant disparaître les dernières étoiles, holocène dans les oreilles.

Tout était là. Juste là. Dans un rayon de trente mètres autour de chez moi. Pas plus." -Morgane Malgat
"When Caroline asked me to participate, I gladly accepted! A personal project, with a group, is always good to « get a kick in the ass », and I needed that.

Being pregnant at that time, I knew to wanted to create about motherhood. I would have loved to do self portraits with that beautiful dress, but my big belly decided otherwise. It didn't matter. I found a superb model to create about a theme that is dear to me : breastfeeding, and especially breastfeeding with a toddler. We dreamt her and me of sunsets on the beach, my favorite place and mu favorite moment!

The universe decided to play tricks, and we got rain every day of my time with the dress. Yet another challenge : to shoot on grey moody days. Not really my forte. And then we had it all : the gray flat sky, the blacks heavy clouds, and the rain.

If I had to draw a parallel with my story here, I would say that society doesn't always welcome openly breastfeeding, especially when it comes to toddlers. Yet, it is one of the roles that Mother Nature has given us, and what a role : to feed the life we have just created!

I see a mother and her daughter, walking together, the storm around them, and yet they are connected by this amazing strong bond, that nobody can take away from them.

The traveling dress has definitely taken me out of my comfort zone, and I am so very proud of my achievement!" -Eva Lagardere
"Quand Caroline m'a proposé de participer à ce projet, j'ai de suite accepté, avec joie! Un projet personnel, en plus en groupe, est toujours un bon moyen de se mettre "un coup de pied aux fesses", et j'en avais besoin! Étant enceinte à ce moment là, je savais que je voulais parler de maternité. J'aurai adoré faire des autoportraits avec cette magnifique robe, mais mon énorme ventre en avait décidé autrement!

Ce n'est pas grave, j'avais trouvé une superbe modèle pour traiter d'un thème qui me tient tellement à coeur : l'allaitement! Et surtout, l'allaitement avec un bambin. On rêvait elle et moi de coucher de soleil sur la plage, mon endroit et moment fétiche! Mais l'univers en avait décidé autrement : nous n'avons eu que de la pluie pendant les jours où la robe était avec nous! Un autre coup de pied aux fesses : shooter pendant un jour de grisaille... Ca n'a vraiment jamais été mon fort... Et on a tout eu : le ciel gris très clair sans relief, les nuages noirs, et la pluie!! Si je fais un parallèle avec mon sujet, l'allaitement, je dirai que la société n'accueille pas toujours l'allaitement à bras ouvert, d'autant plus quand il s'agit d'un bambin. C'est pourtant un des rôles que Dame Nature nous a donné, et quel rôle : nourrir la vie que nous venons de créer! J'y vois une maman avec sa petite fille qui marchent ensemble avec la tempête que cela peut créer autour d'elles parfois, mais qui restent fortes et soudées par ce lien que personne ne peut enlever.

Un projet qui m'aura fait réellement sortir de ma zone de confort, et dont je suis très fière du résultat!" -Eva Lagardere
"Our Sentimental Escape

For this project, the decision to include my wife was obvious. I could not imagine looking a different model to create about womanhood and intimacy.

Most of this project was shot in a small village in the French Alps, where my wife spent most of her childhood holidays. During our time there, when the light was softer, we would desert the family house, leaving behind our children.

As kids would feel about crossing a forbidden line, I had this exhilarating feeling of sneaking out, of escaping, not as usual to run family errands, no, we were escaping to go and create these photos. Together.

I put the keys in, heard the sound of the engine and there we go. Seeking for inspiring places.
Our eyes scanning every little details of this beautiful place around us.

She is sitting in the dress, on the passenger seat, the light enhancing its textures, her shapes. I am driving, desperately reading the evening light, disappearing before my eyes.

It has to go fast for her when I would like to make some more. Too late, she is already elsewhere.
This isn't easy. We do know each other so well.

After all, was it what I had in mind? That my wife would pose like a magazine model, totally willing, without worrying about time passing by.

Whilst our kids are waiting for us, in our holiday home, maybe are they hungry ? It is already late after all, maybe we should go back, don't you think?
After just 3 framings done, I resign myself and we turn back.

Later, comes the moment to discover together the images we created together. There we are, hooked. There we are, proud. Let's admit to it.
We are already planning tomorrow's escape.

My wife is suggesting many places, moods, poses, framings. She has a strong artistic mind, an attachment to art, that she used to put to practice when we were younger. It all comes back to my mind now.

Her ideas are clear, her vision strong, and mostly different to mine.
She is spontaneous, messy, imperfect, whereas I am constantly analyzing, scrutinizing, tracking the perfect straight lines, without unnecessary details. I design my composition as I would a painting.

This series is as much hers as mine.
This is a man's look on his wife.
This is a wife letting herself being looked by her husband.
This series is two visions joining together to create a sparkle.
This series is a little bit of us." -Sylvain Marchand
"Notre évasion sentimentale

Pour ce projet, la décision de réaliser cette série ensemble s'est imposée d'elle même.
Je n'imaginais pas une seconde solliciter une modèle pour évoquer la féminité que je souhaitais associer à la question de l'intime

La majeure partie de cette série s'est déroulée dans un petit village de Savoie, où durant son enfance, ma femme y a passé toutes ses vacances d'hiver et d'été.
Durant notre séjour, lorsque la lumière se faisait plus douce, nous désertions le foyer familial, laissant dernière nous, nos enfants.

Comme des gosses qui ont conscience de franchir un interdit, j'avais un sentiment de faire le mur, d'une échappée, mais pas pour aller faire des courses ou déposer un de nos enfants à une activité, non, cette fois, nous prenions la route pour faire des photos, ensemble.

J'insère les clés dans le contact, le moteur ronronne, et nous voilà sur la route en quête d'endroits inspirants

Nos yeux balayent la topographie des lieux.
Elle, assise sur le siège passager en robe du soir, la lumière caressant les textures et ses formes, moi roulant à vive allure, scrutant la lumière incontestablement en train de se dérober sous mes yeux.

Il faut que cela aille vite, pour elle,
J'aimerai en refaire une, pour moi
Mais trop tard, elle est déjà ailleurs

L'affaire n'est pas simple, on se connait bien.
Après tout, qu'est-ce que j'imaginais? Que ma femme poserait comme une modèle de magazine, totalement disposée, sans se soucier du temps qui passe.

Alors que nos enfants nous attendent patiemment dans notre logement temporaire, qu'ils ont peut-être faim, qu'il est déjà tard, qu'on devrait peut-être rentrer, tu ne crois pas?
Avec à peine 3 cadrages en poche, j'abdique et rebrousse chemin.

Puis vient le moment de découvrir les premières images
Celles que nous avons fabriquées ensemble.
Nous voilà cueillis
Nous voilà fiers, disons-le.

La suite s'enchaîne vite. Nous échafaudons les plans de notre future escapade. Notre évasion sentimentale.

Ma femme suggère des lieux, des ambiances, des cadrages qui viennent étoffer la série.
Son goût prononcé pour l'art - qu'elle consacrait quand nous étions plus jeune - me revient soudain en mémoire. Ses idées sont précises, sa vision claire, et surtout différente de la mienne.
Elle est spontanée, brouillonne, imparfaite, alors que moi, j'analyse sans cesse, je traque les lignes droites sans fioritures, et façonne mes cadrages au cordeau.

Cette série, c'est autant elle, que moi.
C'est un homme qui porte un regard sur sa femme
C'est aussi une femme qui se laisse regarder par son homme
Cette série, ce sont deux regards qui se croisent et provoquent une étincelle.
Cette série, c'est une partie de nous."" -Sylvain Marchand
"I was worried to see myself in the dress. I found it elegant and feminine when I received the package.

It took me some adjustments before I made it mine. I observed its movement, its texture. I had to see it on others before I could picture myself with it.

Then, the time came, I hop in the car, go. You will never guess what … I had forgotten my camera! A miss, for a better start. I could at last understand it all. The dress, the surroundings, my own body.

The day after, here I go again. The sun is shining for me.

I feel good. Free. Wild. I feel womanhood wearing on me." -Emilie Massal
"J'ai eu peur de me voir dedans. Je l'ai trouvée élégante et féminine à l'ouverture du colis.

Il m'a fallut la voir sur deux autres corps pour l'apprivoiser. J'ai observé le mouvement, sa texture. J'ai presque commencé à m'imaginer dedans.

Le moment est venu, je prends ma voiture et je pars. Et vous ne devinerez pas… J'ai oublié mon appareil photo. C'était un loupé, pour mieux appréhender. La robe, les lieux, mon corps.

Le dimanche suivant, je repars. Le soleil est avec moi.

Je me sens bien. Libre. Sauvage. Et féminine." -Emilie Massal
"Depression That Fits:

What we wear on the outside is not always our choice. I am woman, I am child. I am too small for this dress and yet it fits like a glove. It's not supposed to be worn that way though. It's just not. Look at all that sun outside, warming, on your skin. But it hurts. And these laughters are so piercing, I'd rather drown in the shower wearing clothes because at least it might look convincing, that I mean it. What do you choose to wear? For whom? And if you allow others to see underneath that dress, can they still help you to put it on, the right way? Or not the right way. Would it matter? Perhaps, from time to time, I'll be able to wear some shoes with that dress, and go about the world. I can be child and woman. I can be hurting and smiling. I can wear that dress however I want, and fuck it, if it gets wet. Maybe I don't have the choice sometimes, but the kind thing to do is to be ok with that." -Caroline Cuinet Wellings
"La jolie dépression.

Ce que l'on porte sur nous n'est pas toujours notre choix. Je suis femme, je suis enfant. Je suis trop petite pour cette robe et pourtant elle me va comme un gant. Je ne suis pas supposée la porter comme ça, cette robe. Regarde tout ce soleil dehors, chaud et réconfortant, sur ta peau. Mais ça fait mal, mal, mal. Et ces rires piquent si fort que je préfère me noyer sous la douche, dans cette robe parce qu'au moins on me croira comme ça, que je fais pas semblant. Qu'est-ce-que toi tu choisis de porter ? pour qui ? Et si tu laisses les autres voir ce qu'il y en dessous de cette robe, est-ce-qu'ils t'aideront à te la remettre, à l'endroit ? Ou à l'envers à nouveau ?

Et si ça n'avait pas d'importance finalement. Peut-être, des fois, je mettrais des chaussures avec cette robe pour fouler le monde. Je peux sourire et avoir mal à la fois. Je peux être femme et enfant. Je peux la porter cette robe, comme bon me semble, et rien à foutre si elle se mouille.

Peut-Être je n'ai pas le choix, des fois, mais la chose la plus bienveillante que je puisse faire envers moi, c'est d'être OK avec ça" -Caroline Cuinet Wellings
"The traveling dress.

The one that travels. It/she flies, creases, lets go. It/she dares, wonders, believes that everything is possible. It/she dives in. It/she is aways there. And even if not worn properly. It/she changes color, and sticks to the skin.

It/she is always there and very much alive, trust me. The one that travels is that dress. The one that travels is you, it's me, it's us. In the swirl of life, I took the traveling dress with me. As imperfect as I am, so I let her be imperfect, with creases, and random movements. I let it stick to my skin, and show little bits of me, that sometimes I do not like.

I took the dress to my favorite place. The one that soothes me and makes me alive. Because, there, there is a little bit of me too. And that I carry with me little bits of that place. I photographed The One That Travels with my instincts. Just like what guides me and any of my choices, everyday, more and more. So, there, with the traveling dress, I tell you a little bit about me. And about that femininity that I sometimes hide." -Coraline Simon
"Celle qui voyage.

Celle qui vole, qui se froisse, qui se laisse vivre. Celle qui ose, celle qui hésite, celle qui croit que tout est possible. Celle qui se jette à l'eau. Et qui est toujours là. Même si elle n'est pas bien mise. Même si elle change de couleur et qu'elle colle à la peau. Elle est toujours là et bien vivante, croyez-moi. Celle qui voyage, c'est cette robe. C'est toi, c'est moi, c'est nous. Alors dans le tourbillon de cette vie-là, j'ai emmené cette robe avec moi. Aussi imparfaite que moi, je lui ai laissé ses plis et ses mouvements aléatoires. Je l'ai laissée se coller à mon corps, et montrer ces petits bouts de moi. Que parfois je n'aime pas.

Je l'ai emmenée dans mon endroit. Fréval. Celui qui m'apaise et me fait vibrer. Parce que dedans, il y a des petits bouts de ma vie. Et que moi je porte des morceaux de lui. Celle qui voyage, je l'ai photographiée à l'instinct. A l'image de ce qui guide mes choix, chaque jour un peu plus.

Alors voilà, avec elle, je vous parle un peu de moi. Et de cette part de féminité que je cache parfois. Fréval, Fermanville, Normandie. Juillet 2018" -Coraline Simon
"I organized this session with Charlie without really knowing what I was going for.

I work with my guts, my instincts, my feelings. I needed to be inspired by this place, by her, by her connection to the dress. I needed to see how her body and soul would react to the traveling dress.
I needed really to connect to myself and to my instinct and to let myself go along with it, at this moment, and to let myself be guided by us 4: the dress, Charlie, my camera and I.

I was attracted right away by something mineral, by texture. I couldn't quite put a word on it, but reflecting on it, I realized the studio where we photographed was called « Raw material ». And I wanted to translate that into my images.

I also wanted to capture movement, womanhood, femininity, curves and all that comes with it: attitudes, gestures, shapes, light. Charlie becoming herself a material to create all that.

I wanted to show that further than the traveling dress itself, the one that really travels is: femininity disguised in many shapes with all the beauty it has to offer." -Elodie Forot
"J'ai réalisé cette séance avec Charlie sans vraiment savoir ce que je voulais réaliser à l'avance. Je fonctionne beaucoup à l'instinct, aux ressentis et aux intuitions. J'avais besoin avant toute chose de m'imprégner du lieu, de la personne et de sa connexion avec la robe. De voir comment son corps et son âme allaient interagir avec "celle qui voyage" !

Je crois que j'avais avant tout besoin de me reconnecter à mon intuition et à me laisser porter par ce qui se passe en moi dans ces moments là mais aussi par la relation que nous allions créer à quatre : Charlie, la robe, le boîtier et moi ! J'ai tout de suite été attirée par quelque chose de l'ordre du minéral, de la matière. Je ne parviens pas à l'expliquer avec des mots, mais en écrivant je me rends compte que l'atelier de Charlie où nous avons réalisé la séance, s'appelle "matière première" !

Je voulais que mes images retranscrivent ce côté minéral et brut. J'ai aussi voulu mettre en avant le mouvement, la féminité et toutes les rondeurs qui l'accompagnent : les attitudes, les gestes, les formes, les lumières. Charlie devenant alors elle-même matière à tout cela !

Oui c'est cela, j'ai voulu montrer qu'au-delà de la robe, "celle qui voyage" c'est ça : la féminité sous toute ses formes et dans tout ce qu'elle a de plus beau à nous montrer." -Elodie Forot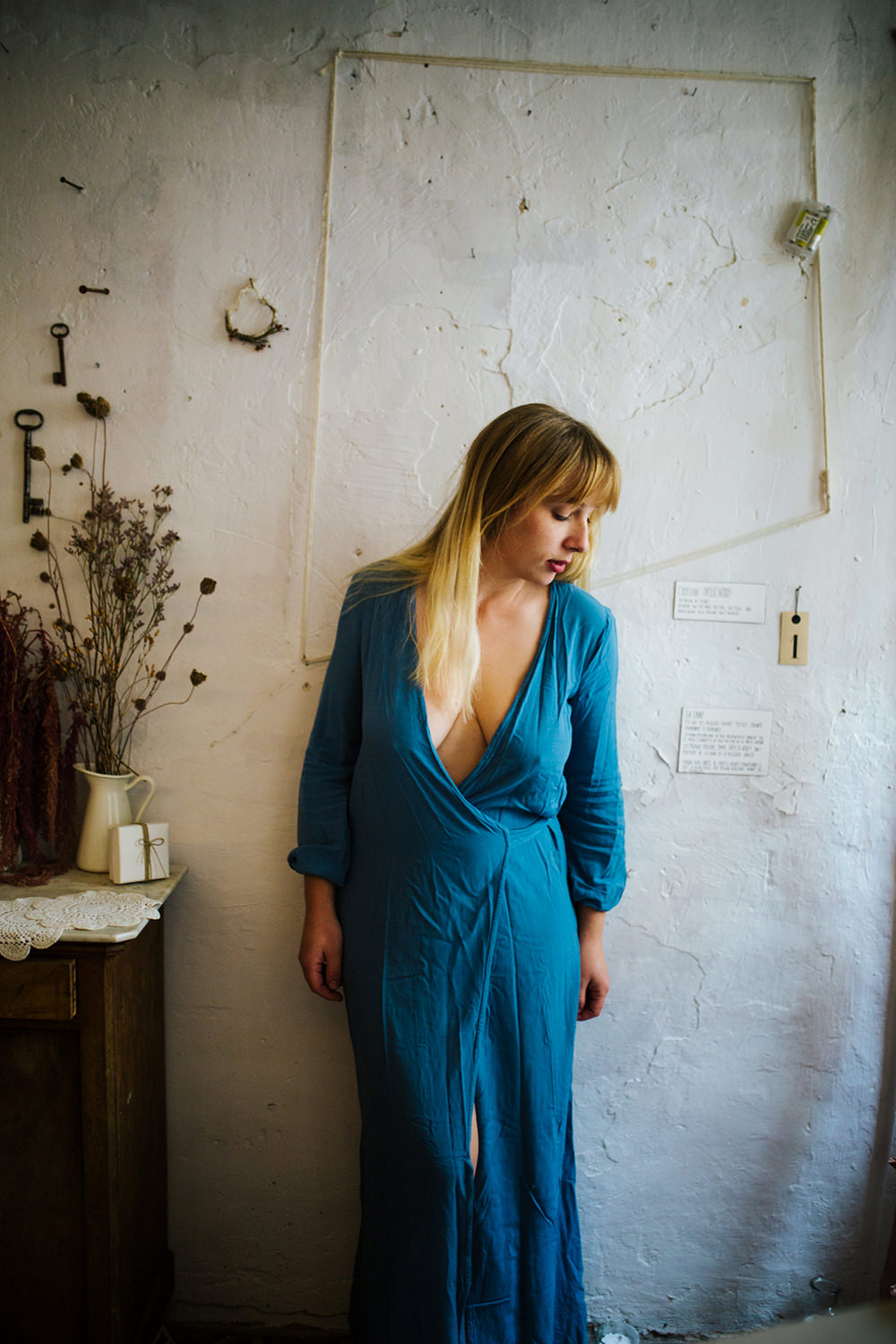 "The traveling dress, traveled to me first.

First stop, but I am taking it away with me in my suitcase right away. Go ! The dress. It likes to fly with the wind, so I am taking to fly with my favorite air ; right by the Ocean. The temperature is fresh, the exercise of self-portraiture isn't easy, but this place that I love and that light, put a big smile on my face.

Back home now. The wind isn't as inspiring here but my garden has its own way to create beautiful stories. My own little jungle, this little paradise I call home, it's pockets of light. And then the dress flies again, it sets itself free. It's peaceful and quiet, the exercise is getting easier.

A quick time in and out and yet this project has opened a new door for me: to create for myself, to try, to experiment. Now it's my turn to set myself free." -Marine Marques
"Celle qui voyage, a voyagé en premier jusqu'à chez moi.

Premier arrêt, je l'embarque déjà dans ma valise pour repartir. Aller. C'est une robe qui aime voler au vent, alors je l'emmène prendre mon air préféré, celui de l'Océan. L'air est frais, l'exercice difficile mais cet endroit, cette lumière me donnent le sourire.

Retour. Le vent d'ici me parle moins mais ma maison et mon jardin savent s'y prendre pour raconter de belles choses. Ma jungle, ce petit paradis du quotidien et ses trous de lumière. C'est là que la robe vole à nouveau, c'est calme et doux, l'exercice est déjà moins difficile. Aller-retour.

Et pourtant ce projet m'aura ouvert une autre route, créer pour soi, expérimenter. A mon tour de repartir." -Marine Marques
"The one that travels.

The traveling dress. It is moving, it comes in and out of lives, it came into my life. At this point, when I had the dress with me, I had the feeling it was swirling about motherhood. I wanted movement as my life was moving fast at that particular time. I wanted to be seen as a mother. I wanted to see myself through that dress as I am, with my curves and shapes. I also wanted to have fun and create an image that wouldn't make any sense at all, and when I looked around, and saw my garden, I knew: I wanted to do and be just like my tomatoes. True story. I stood straight as a fence in that hot summer evening and looked afar.

It was imperfect and messy, but in the end this is exactly what those photos were meant to be: as close as possible to my own being." -Cathy Marion
"Celle qui voyage.

C'est la robe qui voyage, elle est en mouvement, elle traverse les vies, et elle a traversé ma vie. A ce moment, lorsque j'ai eu la robe, j'avais l'impression que ma vie était un tourbillon autour de la maternité. Je voulais du mouvement t'elle qu'était ma vie. Je voulais qu'on me voit mère. Je voulais me voir à travers cette robe comme je suis, avec mes formes et mes courbes. Je voulais aussi m'amuser avec et faire une photo qui n'ai pas de sens profond, alors j'ai vu mon potager et j'ai voulu faire comme mes tomates. Véridique. Poser comme un piquet, et regarder loin. J'ai voyagé et elle a voyagé dans mon potager lors de cette chaude soirée d'été.

C'est fouillis et brouillon mais finalement c'est exactement ce que devaient être ces photos, au plus proche de mon être!" -Cathy Marion
All French to English translations were done by the group leader, Caroline Liabot.
Teresa Vick
Graphic Designer since 2005 and natural light photographer producing mostly black and white images, some color, with a fine art style, located in Vancouver, WA, USA.
I love creating. I love finding beauty in the mundane and seemingly trivial. I love being a part of creating beautiful things.
I tend to be an over-sharer. So here goes. Music, movies, and imagery are God's gifts to me. I'm convinced these are the tools He chooses to communicate with me. I make mistakes everyday, try to clean up the mess alone, make it worse, then finally, as a last resort call on the One I should have in the first place. I'm desperately searching to fill the hole that only He can fill and everyday I become more convinced that it won't be filled here... and I can't wait to meet Him face to face. To finally meet who I was created for. To finally understand.