Pink Velvet Wrap Dress
Myself (Jeny Crews) and, my partner in photography crime, Amy Brown had been discussing doing a traveling dress series with the Northern California group we run for local photographers on Facebook, NorCal Photo Shootouts, for quite a bit of time before we discovered this project series. However, we never could quite get it going at that time. So when we got word that this series was going to be expanding to a broader community of photographers all over the world, we knew we had to get going on a series ourselves, so that we could participate.

Thus, we quickly started inviting photographers we had grown to love over the years from our local group to join in on the fun. And while our dress did not reach all corners of the globe, it did manage to reach quite a bit of the corners here in Northern California. We had so much fun passing the dress along, setting up places to meet and making plans to exchange the dress from one person to the next.

Our process was totally collaborative. We started with choosing the dress. Each person took some time to browse online and if we found something we loved or that inspired us, we submitted it to the group for everyone to discuss pro and cons, likes and dislikes, etc. The majority ruled on this one, and almost everyone fell in love when it was suggested. We knew it was the one and we all said "yes" to the dress!!…Anyone having flash backs to their wedding or that TV show here? LOL.

The next course of action was to choose our order. We used a random name picker online and that helped us arrange the timeline for passing along the dress. After we had our shoot dates, we talked about guidelines.

The only real "rule" we had was that you could not share your images with anyone inside or outside the group. This part of the process was hard for all of us, especially after we had produced our images. We just had so much joy in the outcome of what we had created that it was hard to keep it all on the down low for so long.

Even though it was difficult to keep things under wraps, it made "reveal day" so much more fun!! Once the last person was finished with their session, we set a date to share our images with each other. We told the participants that each person could share as many images as they'd like, and then we'd all take a look and favorite the 3 we loved the most for submission. In the end, it was up to the photographer to ultimately decide what the end result for submission would be, but it sure did help us all see our work through each other's eyes.

And that I think was the biggest take away from this whole experience, not only creating works of art from the ground up or connecting with fellow creatives but also learning something about how other's view our work at the end. It was a great project that I was so happy to be a part of and I can't wait to participate in another one soon. -Jeny Crews
Jeny Crews - Jeny Crews Photography (Red Bluff, CA)
Facebook | Instagram | Website
"The dress had finally arrived and, as soon as I unwrapped it, I knew instantly what I would do with it. I had always wanted to shoot in my personal bedroom at sunset. I look forward to that light every day that I continue to live in this little, built in the 50's, house of mine. So there was no other place that was even thought about. I knew I wanted a mother and child scene, and I knew I needed a baby in the scene, as well. I just simply could not imagine any other clothing pieces styled against the dress itself, so a nakey baby it had to be.

I originally imagined that I wanted some what of an old world, painterly feel to my image of just baby and mom in some beautiful dramatic light. But once I saw the lace design from the light coming through the curtains, being projected on my model in the first image there, I was stuck tight with that as the enhancement to the scene I was capturing.

I actually recruited one of our participants to model for me, Jenny and her little daughter Irelyn. Their bond was so perfect for this and I loved working with them. It also made it really easy for us to pass along the dress, as Jenny was the next in line set to receive it."
Jenny McHenry - McHenry Photography (Chico, CA)
Instagram
"So my month to photograph was in February. All my usual locations were bare and we hadn't seen sunlight for weeks. Like most photographers, I've had such a love affair with light that imagining my images without any killed me! I was able to hunt down a fabulous location and towards the middle of our session the tiniest bit of light crept out. I was so excited and took full advantage of every drop."
Stefania Richelson - Stefania Richelson Photography (Fort Bragg, CA)
Instagram | Facebook | Website
"I photographed this dress in late winter, when the weather is chilly and the sun sets too early! Living on the coast, my go-to location is often the beach, but a velvet dress didn't scream "beach" to me, so after a little more thinking, we ended up at the beautiful Mendocino Coast Botanical Gardens.

I loved exploring the gardens with these two, and I love the way the dusty pink pops against the green surroundings. I must admit, this project pushed me to think quickly, and try something new, given the short amount of time I had with the dress. This is a fantastic project, and I hope to participate in another!"
Amy Brown - Amy Brown Portraiture (Red Bluff, CA)
Instagram | Facebook | Website
"During this journey I discovered a couple things about myself as a photographer. The color palette that I love to shoot and edit is totally different than what I love in other's work. I have come to love my work with vivid, warm colors. So this dress fit my esthetic perfectly. I had a location in mind, but it was one of those "ugly" locations in which I needed a subject to "trust me" for a session. When I asked my model she was willing to humor me.

The session came and I was blown away at the light! I believe the calling I felt inside was the subconscious recognition of the light at that location. The night was warm and the sun came through the trees hazy and wrapped around my models. Love was captured."
Ashley Buck - Vintage Chic Photography & Salon (Weed, CA)
Facebook
"I had my turn with the dress at the very beginning of April. I photographed the dress the same day I received it. It was a rotten April day, still muddy and wet everywhere. I threw my sister in the dress and just drove until I came across this over grown orchard. We had to hurry, as I was losing light rather fast and we were being savagely attacked by mosquitoes in the damp grass, and it was still cold. It was quite a miserable session full of complaints from the small human, to be honest, lol. My pictures were taken in a small rice town in Northern California called Biggs."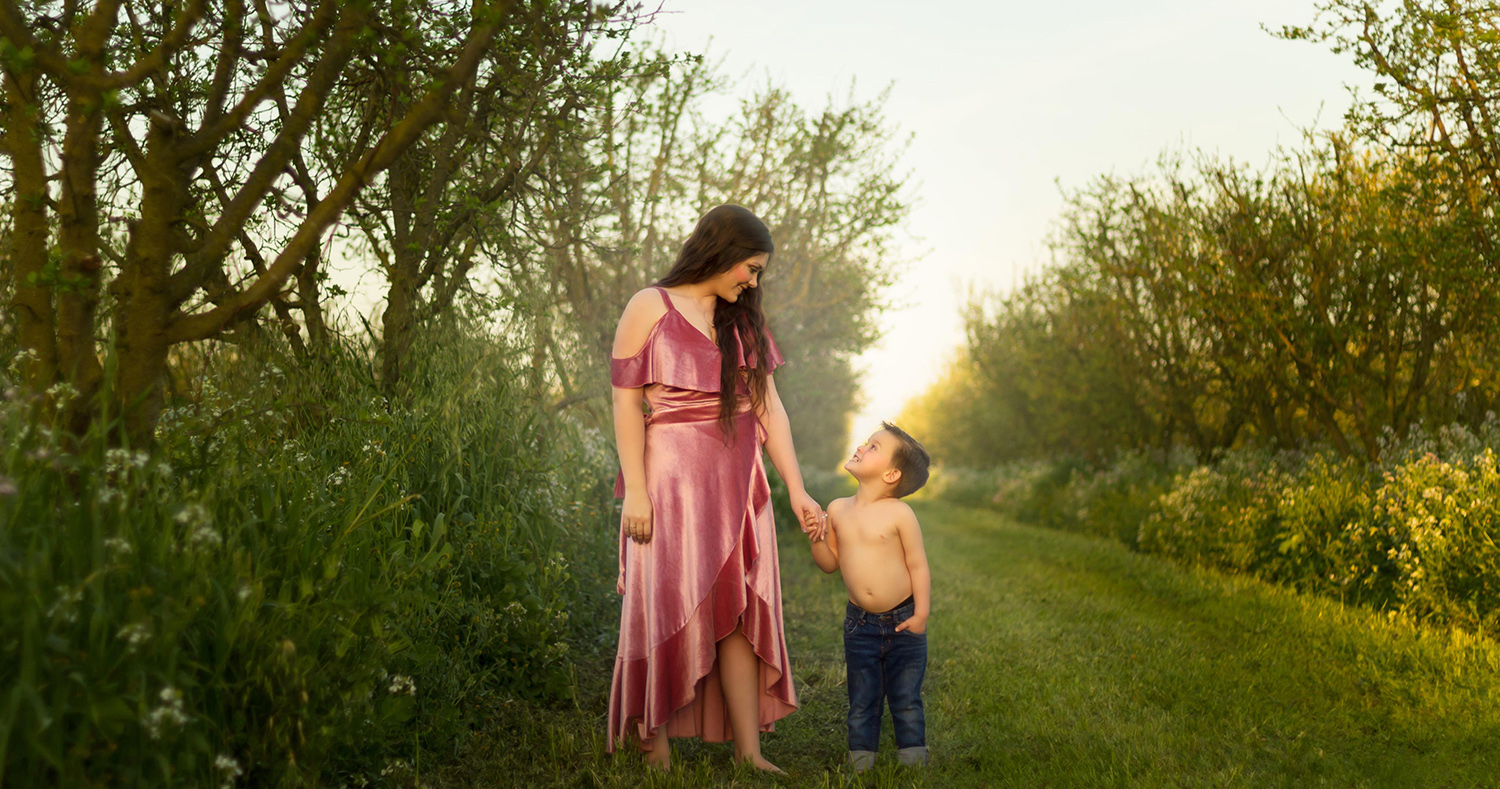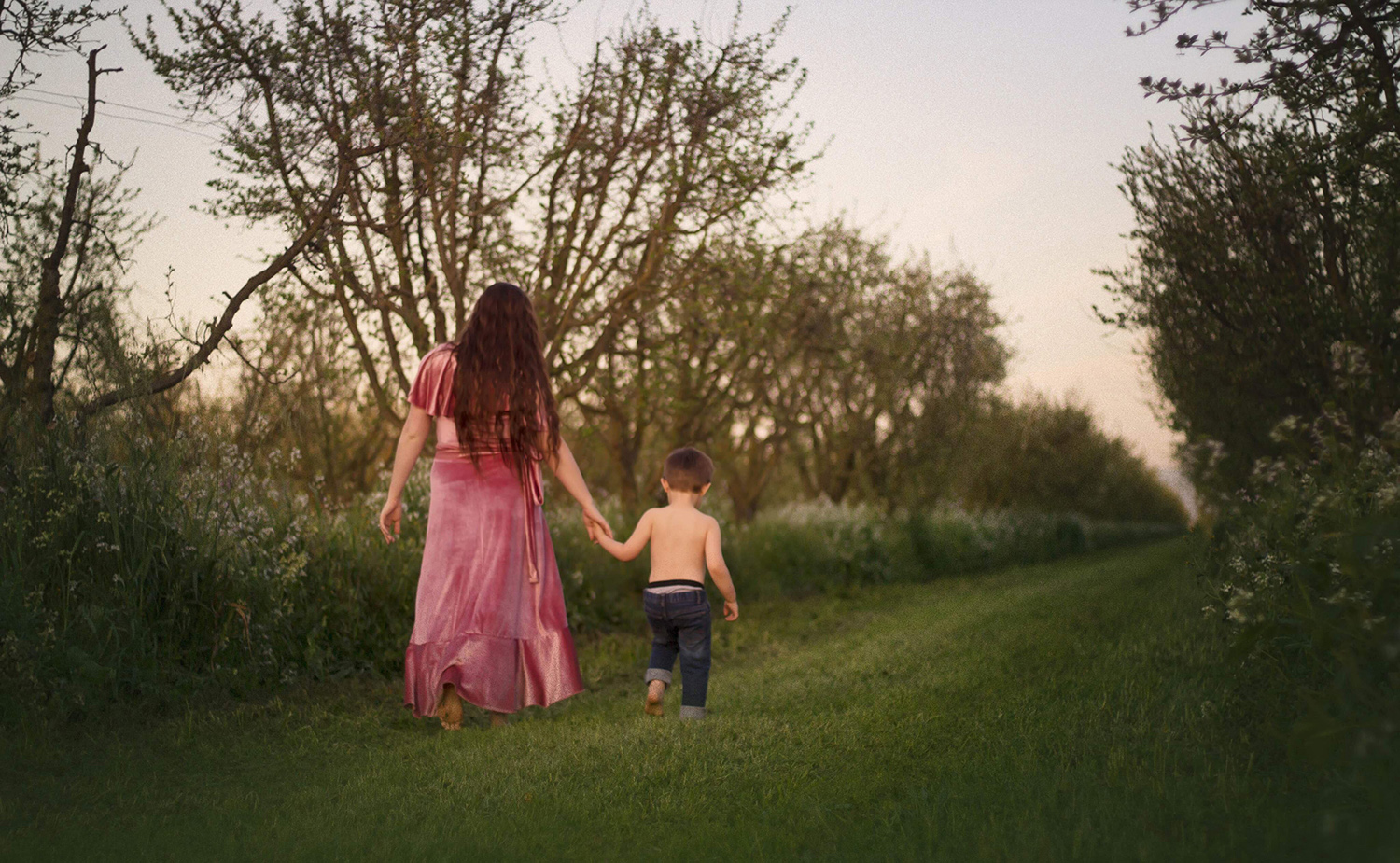 Cassie Wolverton - Wolverton Photography (Anderson, CA)
Instagram
"When I saw the dress I envisioned it in water. I brought my style in by using a flower crown. I love working in moss and this dress worked perfect with the woodland effect I was going for. Using my favorite muse, my daughter, we had so much fun. This project has made me grow as a photographer. Nothing like a gorgeous dress and project to get your creative juices flowing."
Francesca Murgia - Portraits by Francesca (Chico, CA)
Instagram | Website
"When I saw the dress, the location came to me. I ended up taking self-portraits of my daughter and I. Self-portraiture has become a therapeutic experience for myself. We ended up dancing around the camera, twirling and laughing. We had a few people walking along a nearby trail. I am sure they thought I was some crazy lady, out in the middle of no where dancing around and laying on the ground. It was worth it though."
Amber Richardson - Vintage Chic Photography & Salon (Weed, CA)
Facebook
"When I saw the dress I knew immediately that I had to photograph it at golden hour. The color was just perfect for that dreamy look. I had a model picked out and a location with a lot of greenery. However, when the dress arrived I decided, on a whim, to change up the location and the models. I went over to my brother's property in Big Springs and had his kids model for me. It was totally an impromptu session that just fell together perfectly."
Stephani Yannazzo - Stephani Ann Photography (Chico, CA)
Instagram |  Website
"This session was a complete "make it up as I go" session. Our original location was so windy there was no way we could photograph there. We found a little spot on Donner Summit surround by trees and rocks that secluded us from the wind. I learned from this project that I actually work best when I don't have a plan. I wasn't over thinking it at all. I am really excited with the outcome. My sister looks beautiful and almost like a goddess. I love how this session turned out and would love to photograph at this location again."
Lisa Kennedy - Lisa Kennedy Photography (Redding, CA)
Facebook | Instagram | Website
"When I saw a picture of the dress in January, I instantly had a vision. It was of a blonde, styled 70's, and sitting in a bar with her martini. I had to wait almost 6 months for my turn with the dress and I was so excited to shoot it. I wasn't able to totally get my vision down, but I did get to push myself out of my comfort zone and photograph with off-camera flash (OCF) (something I'm just learning to do). My model, Faith and I, had such a good time during the session, experimenting with the light and such. I hope to do another project like this soon."
Teresa Vick
Graphic Designer since 2005 and natural light photographer producing mostly black and white images, some color, with a fine art style, located in Vancouver, WA, USA.
I love creating. I love finding beauty in the mundane and seemingly trivial. I love being a part of creating beautiful things.
I tend to be an over-sharer. So here goes. Music, movies, and imagery are God's gifts to me. I'm convinced these are the tools He chooses to communicate with me. I make mistakes everyday, try to clean up the mess alone, make it worse, then finally, as a last resort call on the One I should have in the first place. I'm desperately searching to fill the hole that only He can fill and everyday I become more convinced that it won't be filled here... and I can't wait to meet Him face to face. To finally meet who I was created for. To finally understand.