Silver Tulle Appliqué Bodice
When I, Gabi Marshall, first heard of the Traveling Dress Collective I just knew I would be creating a group of my own. This year I was on the hunt for photographers throughout North America to collaborate with for a group of my own. From the Arizona Desert where it started to the Lands' end Labyrinth in San Francisco where it ended the dress travelled to nine insanely talented women.
I chose a silver, floor-length tulle dress with an appliqué bodice. It was beautiful and complimented everyone so well. It reminded me of a princess bride for some reason so it had to be our dress. I was so glad that it's the one I went with. –Gabi
Gabi Marshall (Group Leader) - Yuma, Arizona
Website | Facebook | Intagram
The dress started its journey in the Grand Canyon State, Yuma to be exact where the summers are brutal but the tacos are life. Since it was the spring Gabi was fortunate to have beautiful weather so she decided to do a golden hour shoot with one of her favorite models. Her model Kendra had been a ballerina for many years and wasn't shy about getting in front of the camera in her point shoes and was thrilled when asked to do this project. In Gabi's words,
I am so inspired by princesses, fairy-tales, and ballerinas so I knew Kendra would be the perfect model, the moment she put on the dress and point shoes she transformed and created magic for my camera." -Gabi
Danielle Ellsworth - Tampa, Florida
Facebook | Instagram

The dress then traveled east to Florida where it would arrive to Danielle Ellsworth. She recently moved to Tampa from Yuma, Arizona and I was thrilled that she wanted to be a part of our group. I just love her and her work. Due to her moving and being new to the area she was having a hard time finding a model so she had her gorgeous daughter model the dress for her in a session at the Apollo Beach Nature Preserve just south Tampa, Florida. Danielle said,
"The dress is gorgeous, and my daughter did a great job. My goal with her was balancing fun with this gown and yet, maintaining some modesty for my teen daughter." -Danielle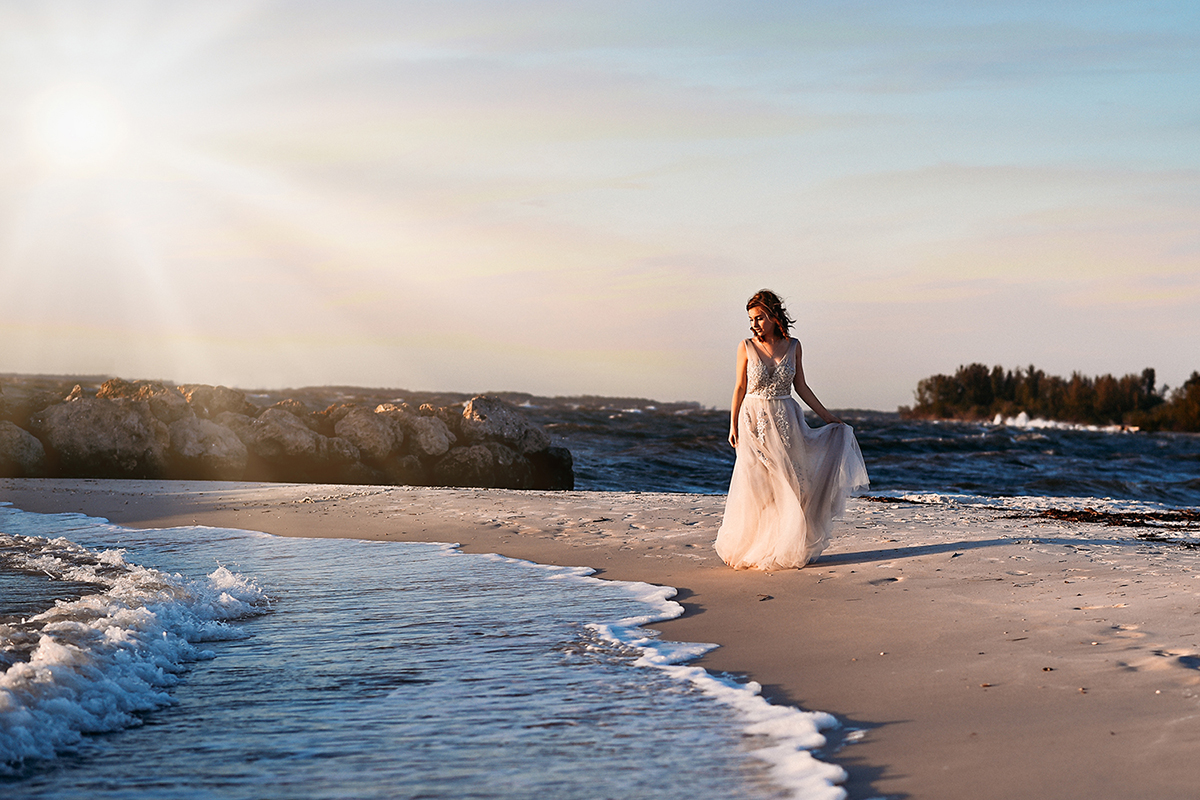 Jessica Romans - Asbury Park, New Jersey
Website | Facebook | Instagram
Sand shaken off the dress off it went to the Garden State where Jessica put together a styled bridal session. She went to the beach and the Asbury Park boardwalk where she came across some decaying architecture that she used to her advantage. In her words,
"With such a soft, ethereal look to it, I aspired to take this feeling and juxtapose it with an environment that would both compliment it (the beach), as well as in other non-traditional spots found along the Asbury Park boardwalk – with some unique and decaying architecture. Photographing this dress was just as surreal as the environment it was surrounded by." -Jessica
Hiedi Nguyen - Muncie, Indiana
Instagram | Facebook
Hiedi was next to get the dress. From New Jersey to Indiana the dress went and when Hiedi received the dress she decided to do her session in the Cornerstone Center for the Arts. Hiedi said,
"When choosing my model, I wanted to reach out to someone I've never worked with who has not modeled before to capture the realness. Not only was the dress stunning, but she stole the show with her flawless beauty!" -Hiedi
Sydney Snider - Grand Haven, Michigan
Website | Facebook | Instagram

The dress continued its journey and went to Michigan where Sydney was waiting for it. Sydney and her model Cloee, who is also a photographer, went to the local dune preserve in Grand Haven for their session. According to Sydney,
"West Michigan is known for its beautiful dunes full of dune grass, and I wanted to highlight that in the session." -Sydney
Mandy Luminais - New Orleans, Louisiana
Website | Facebook | Instagram

The Big Easy was next on the list of stops for the dress. It arrived just in time for Mandy's session. She went a little more non-traditional for her session. In her words,
"I love incorporating contrasting themes and elements into my portraits, so when I saw this lovely, feminine, airy dress, I decided to go the non-traditional route and add some dark, Gothic flair. I also love playing with texture and color, and the streets of New Orleans have so much to offer." -Mandy
Katrina Van Camp - Coldstream, BC, Canada
Facebook | Instagram | Website

Now it was time for the dress to get its passport ready because it was off to British Columbia where Katrina was anxiously waiting for it. By this time all of us are so excited and ready to share our work with the world. Most of us had our time with the dress and couldn't share our pictures per the rules. If any of you out there reading this are as impatient as we were you know exactly how we felt. Katrina was no different and with international shipping the dress took a bit longer to arrive to her but it finally did. She did her session in Kalamalka Lake Provincial park near Coldstream, BC and she found a magical waterfall. Katrina said,
"We were swarmed by mosquitoes, and ran into a rattlesnake on the trail. But we had amazing views of the lake, a waterfall, and a gorgeous little private beach. I mean, what more could we ask for?" -Katrina
Rylea Foehl - Eatonville, Washington
Website | Facebook | Instagram

The dress was boxed up and the rattlesnakes were not; then away it went to Washington State where Rylea would be waiting for it. She wanted to incorporate her farm and barn that is over 100 years old. The forecast called for clear blue skies but being in the Pacific Northwest they were surrounded with thick fog instead. Even with that minor setback she was able to capture these stunning images for us. Rylea explained,
"Even though the session did not go as planned I am so beyond happy with the outcome." -Rylea
Suzy Raskin - San Francisco, CA
Website | Instagram

Last but not least the dress made its way to the Golden State where Suzy would be expecting it. Suzy is like myself, anti-mornings, but she sacrificed her love of sleep to go to The Lands' End Labyrinth in San Francisco at the crack of dawn. I will say I am so glad she did because what she produced is breathtaking. Suzy shared,
"Getting up before sunrise was totally worth it and I will definitely be doing more sunrise sessions." -Suzy
This project has been so much fun to do. It has pushed a lot of us out of our comfort zones and made us try new things. We have made new friendships out of this and learned a lot from ourselves and each other. I was so thrilled when I saw everyone's work. The amount of talent in these ladies took my breath away. -Gabi
Teresa Vick
Graphic Designer since 2005 and natural light photographer producing mostly black and white images, some color, with a fine art style, located in Vancouver, WA, USA.
I love creating. I love finding beauty in the mundane and seemingly trivial. I love being a part of creating beautiful things.
I tend to be an over-sharer. So here goes. Music, movies, and imagery are God's gifts to me. I'm convinced these are the tools He chooses to communicate with me. I make mistakes everyday, try to clean up the mess alone, make it worse, then finally, as a last resort call on the One I should have in the first place. I'm desperately searching to fill the hole that only He can fill and everyday I become more convinced that it won't be filled here... and I can't wait to meet Him face to face. To finally meet who I was created for. To finally understand.