Wild Purple Dress
I love what the Traveling Dress Collective embodies. Connectedness in what can be such an isolating field of work. Beauty in our art, our subject, the dress. Travel through time and space with one item connecting us all through the love of photography and our daughters.
Maria Griner and myself teamed up to lead this group of nine ladies. Maria immediately suggested a pair of ladies, Wild Purple, to create a one of a kind dress for our group. Maria described to the designers the style we were hoping for. The designers happened to come across a one of a kind piece of a vintage handkerchief at an antique store. The entire dress was designed, created, and hand sewn around that handkerchief.
- Tara Heinl (group leader)
From the dress designer/artist:
"MegAnne and I started the Wild Purple almost 4 years ago as a creative outlet. We both had young daughters and were already crafting for them! We actually started out making things out of clay, vintage found objects (books, frames, etc.) and it slowly evolved into clothing. My mom and grandma taught me (Katie) to sew when I was young, and MegAnne is self taught. We have an affinity for vintage textiles, but we both have a bit of a boho soul, so we like to try to blend the two together for something unique and fresh. We love the thought of bringing new life into old textiles that otherwise would be sitting on a shelf somewhere. We love to create new things all the time, and have some self diagnosed fashion A.D.D. but we aim to at least not be boring." -Katie
Tara Heinl - Group Leader (Columbus, Ohio)
Shooting Locations: Columbus, Ohio, Brooklyn, New York, and New Haven, Connecticut
"I received the dress in Ohio the week of the 4th of July. My first born, my eldest daughter, was a perfect fit for the dress. What better time to receive the dress than a week we had planned out just for her. The dress would begin in Ohio but would travel with myself, my husband, and my daughter over 3 states in five days as part of her 9th birthday celebration. I started shooting the dress in our town of Columbus Ohio. My daughter has been playing the violin for the last three years. Yet just like she does not quite recognize her full beauty, her full potential in life, she often fails to see the beauty and potential in the violin. I chose to include the violin in our shoot. What a way to have physical evidence of her beauty in a gorgeous dress playing a beautiful instrument. Our journey with the dress did not stop there. The dress, packed up tight, got on a plane, my daughter's first plane ride, to New York City. In between the laughs and joy of time alone with our oldest, I shot her in the dress under the Brooklyn Bridge right after we had the most buttery lobster rolls and the most fresh ice cream. The dress then was packed up again on a train ride to New Haven, Connecticut. We spent time on the beach and ended our trip at a beach wedding under a famous lighthouse. The same lighthouse I shot our final shots with the dress. That trip ended up one of the most fill up your cup kind of a trips. A magical sort of a trip really. You see, my oldest is the reason I ever even picked up a digital camera. She was the one I photographed over and over and over until I became the photographer I am today. The one I named my business after. And yet all those places we traveled, the dress traveled, I kept coming back to those first images I shot of her in the dress. The ones of her and I, in our city, the city we love, doing the one thing I love seeing her do. Making beautiful music, in that beautiful dress. "
Maria Griner (Destin, Florida)
Instagram | Websight | Facebook
"When first hearing about the traveling dress project I just knew I had to be a part in it. Especially with my muse, my first born, my photo loving oldest daughter Ava. Tara and I began talking more and I decided we needed a one of a kind piece to make it's way around the country. My first shop that came to mind was The Wild Purple. They are an amazing team of two hard working mama's with the most creative vintage/boho vibe to go perfectly with our styles. I, Maria, started the journey in the Emerald Coast of Florida. Also known for the most beautiful beaches around. After a week of rain, I knew I had one day to make it work. Windy and overcast Ava and I set out for an evening on the beach and together we created magic."
Cami Turpin (Highland, UT)
Shoot location: Tibble Fork Resevoir, American Fork Canyon, UT
Instagram | Website
"When I thought of what location I'd like to use for this project, I ran through Salt Flats, Red Rocks, and Sand Dunes. But just 5 minutes from my house is a canyon with some of the most beautiful mountain views in the world. I took my daughter up to Tibble Fork Reservoir to get some sunset photos, but we missed the sun. Instead the incredible turquoise water of the reservoir was even more beautiful during blue hour. My daughter seemed too grown up and just like a little girl at the same time while she wore the dress, and she loved it every time she got to put it on."
Chelsea Cronkite (Cashiers, NC)
Instagram
"Our time with the Traveling Dress was limited but well embraced. My daughters enjoyed twirling in it on the tops of our mountains as well by the smallest of cabins that these valleys keep like secrets, tucked deep in their dark forests."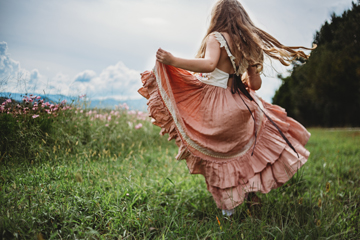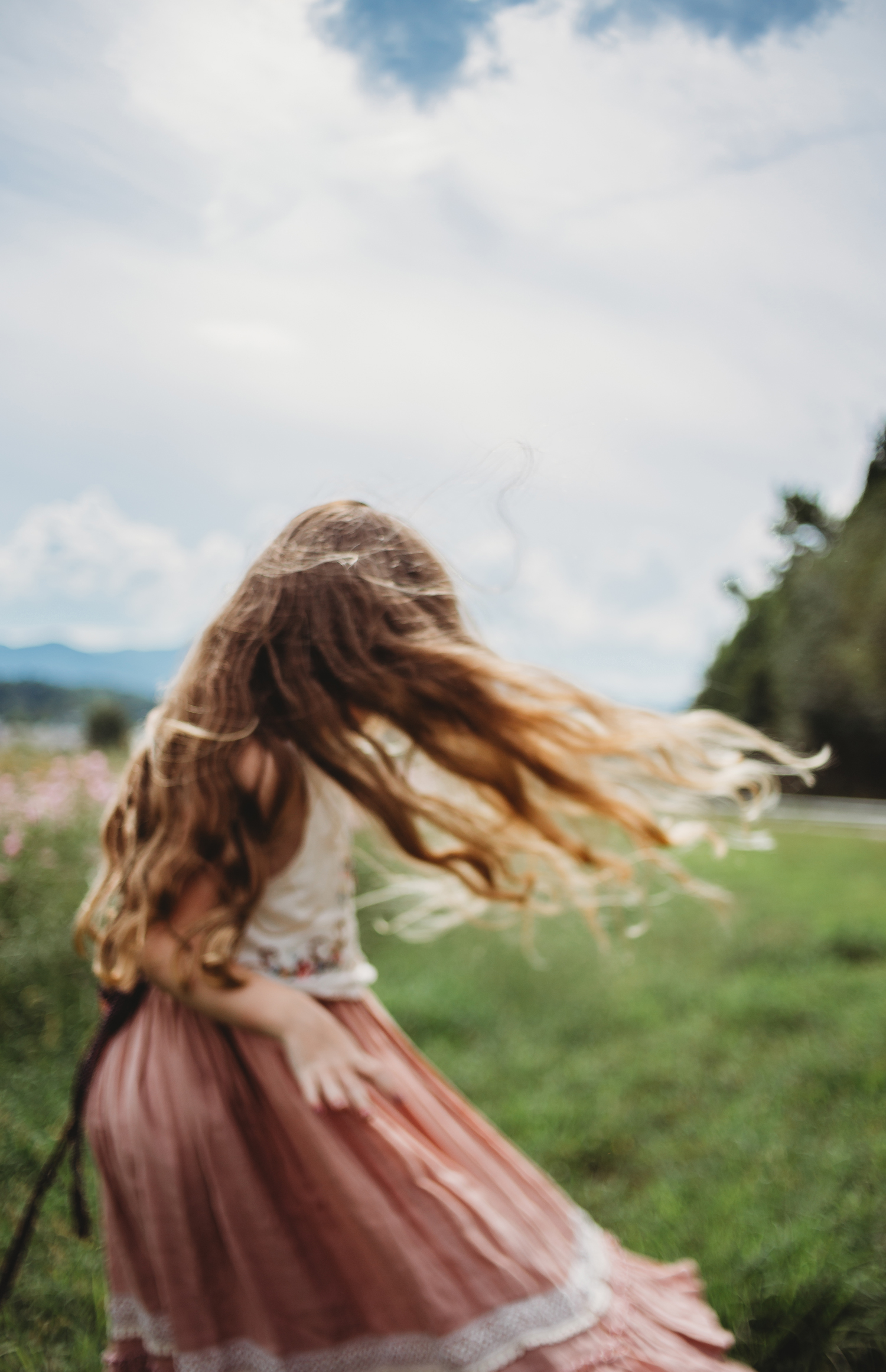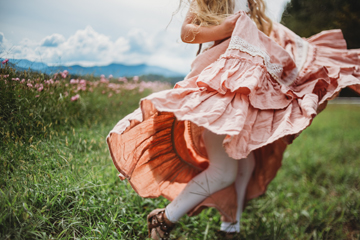 Holly Awwad (Imlay City, Michigan)
Instagram
"When the dress came my way I was so excited. This dress was handmade, one of a kind, and so incredibly beautiful. It fit my middle daughter perfectly. This worried me a little, because my middle daughter doesn't like to dress up at all. She is a self professed "tom-boy". This is one of the things I love about her, because I was a lot like that myself as a child. I begged her (and bribed her) to try on the dress. She happily did so, just for me, even though she reminded me a few times that she is not a girly girl during the process. I knew I wouldn't have long with her before she had enough fun playing dress up, so we just walked out to the dirt road we live on. I watched her blossom into a beautiful and confident young lady, and much to my surprise, she actually enjoyed herself. The time was short, but memories were made that day. Memories of my beautiful girl in a beautiful dress, who gave me her beautiful heart."
Monica Pereira-Allen (Indian Mound Campground, Michigan)
Instagram | Websight | Facebook
"The moment I took this dress out of the box I was in love! It was a beautiful summer evening in South East Michigan and I couldn't wait for my daughter to put it on and for me to photograph it. The sun was about to set and knew it was going to rain all week and I didn't want to miss my window so we jumped in the car and stop by the beautiful wild flower field close to our house and it was magic! The light, the dress, the grown up field and my soon to be 11 year old just blended together in a perfect harmony to create this beautiful memories."
Meg Koning (Colorado)
Instagram | Facebook
""My daughter and my experience with the traveling dress was so much fun! She absolutely loved that fact that it was going on to travel to another little girl in our country, and we looked up the path and area it would be next on the map before we sent it off! Our time photographing the dress was such a lovely night with minimal sun (oh, Colorado!) but suddenly a moment it did peak through! We loved getting to dance, play, find ladybugs, and blow dandelion puffs in the mountains while we loved on this dress! It was an honor to be considered among a group of very amazing and talented photographers and to join in!"
Courtney Hupp (Lenexa, Kansas)
Courtney MaCarie Photographer + Storyteller
Instagram | Websight | Facebook
"When I saw the dress I knew it would be a perfect compliment to show off the beauty of Kansas. I wanted to highlight our wide open spaces, beautiful fields, the wind, the golden light and, of course, our sunflowers. I was so happy to be able to capture a perfect sunset in the park right behind our house and the sunflowers were blooming just in time. More importantly, I was able to spend some much needed time one-on-one with my model; my daughter. She's a true gem. The kid of girl who stands out in a crowd because she dances to the beat of her own drum and wears her heart on her sleeve. She carries so much inner fire that it can be hard for her to understand at such a young age. I know she will grow to love herself and embrace that strength and I got to see a glimpse of that power during our time with the dress."
Cara Kiggins (Kingsport, TN)
Instagram
"We received the dress during the summer rains here in the the Tennessee, Smoky Mountain side, of the Blue Ridge. The scenes here are breathtaking and I was so worried we'd have to take indoor shots since the rain wasn't letting up. Then, 30 minutes before golden hour, the clouds broke apart and the sun came out. We threw the dress in the car and raced to the section of the Blue Ridge that I had eyed for our photos. The clouds were stunning with a small break to let in the most beautiful last rays of golden sunshine. The rains here always bring a glorious fog to the mountain range. Moody clouds, rays of sunshine, fog, and a gorgeous girl twirling in a breathtaking dress... this is heaven! She would've twirled in that beautiful dress, on that mountain range, for days if I had let her! But she was also excited to help me pack up the dress and mail it on to the next sweet girl!"