Vintage Orange Floral Maxi
Morgan Petroski Hjelm (Group Leader)
Montreal, QC, Canada
Instagram | Instagram
Once we decided on a dress I knew I was going to do an earth-goddess themed session, and when I saw the sunflowers at the local florist that morning, it all came together for me.

Doing The Traveling Dress project pushed me out of my comfort zone in photography. Recently I have gotten use to relying on allowing my subjects to bring their story and selves into the photos, but this time I didn't want to document, I wanted to create. With an image in mind and the perfect model for my vision, I was able to create the images in my mind and in front of my camera.

The fact that the vintage dress almost looks like you could buy it today in a store makes the images seem timeless to me. I remember my grandmother telling me, if you wait long enough fashion will come back in style.

I live in the bustling city of Montreal, but am really a nature girl at heart. I found a new-to-me (and slightly off the beaten-path) park just for this shoot, which I know I will be returning to again and again when I need to escape the big city life.
Lindsey Lee Steffener
Snohomish, WA
Instagram
I took these images of my 9 year old daughter in the same location where we did my last maternity portraits. I love the idea of seeing a dress travel to all of these different places and pass through all of these different hands...it's like the dress was on a journey of it's own and I felt so fortunate to to have it cross my path. I chose to photograph my daughter in the dress because I wanted the images to be something for me to hold onto personally, something that I would want to display and pass along to my daughter. So the journey of the dress continues with her...even if just through an image.
Dana Boarman
Cocoa, FL
Instagram
These were taken in Historic Cocoa Village down here in Florida. It is one of my favorite spots to photograph so I was happy to go there. My model is a beautiful young friend of mine who happily volunteered her time. The weather was perfect and we had a great time walking around the village and taking photographs.

I loved photographing Kyleigh in this gorgeous vintage dress. It sort of reminded me of how glam sessions in the 70's and early 80's looked. When we wandered into the record store (only one in Cocoa!) I felt like the dress looked right at home. Photographing older vintage pieces definitely ignites a sense of nostalgia, remembering simpler times.
Kerry Tenhave Peterson
Lancaster Park, AB, Canada
Instagram
This dress was a challenge for me as all dresses are. I grew up on a farm and was quite a Tom boy, I wore coveralls and rubber boots. Most of the time I was lost in a day dream whether I was in the barn or playing in the creak. In those daydreams I was always a beauty on some kind of adventure in a beautiful dress. This session turned into the vision of those daysdreams I always had as a child. It made me very nostalgic for the good memories I had in my childhood.

Originally I had something completely different in mind. I really wanted to do a southern bell kind of look in a prairie wheat field. However with all the forest fires and smoke it just made the skies really blah. So I decided to take it back to my roots of finding an old creek in the forest.
Jacquelyn Knoll
Sterling Heights, MI
Instagram

I knew I wanted to do self-portraits with my daughter, specifically breastfeeding for this project. This dress screamed motherhood to me so I knew I was on the right track with my vision. I received the dress when I was on vacation for 5 days. I came home and although I pumped while I was gone my milk supply dwindled down out of nowhere after 2 days of being home. This first photo is the last time I breastfed her and the last time I will ever breastfeed again. I was thinking it would be a happy time taking the photos but instead she was crying; so angry at me that I had nothing to give her and started biting me. The last photo depicts my anger in the prettiest way possible after just putting her down on the floor to cry and crawl away because I just wanted to scream so loud. Regardless I am so happy I have these special moments and I think of the emotions all over again looking at them.
Sarah Beth Sutter
Cincinnati, OH
Instagram
My husband took my photos in a building that he, his brother (who lives in England), and his father own here in Cincinnati, Ohio. There are several buildings that they own in a row and this particular one, they haven't finished renovating. My father-in-law was diagnosed with brain cancer in January....I took these photos in June....he was gone in July. In a way, it is a tribute to him because he spent so much time working on the buildings. He loved them and could've turned this one into something amazing. Now he's gone...my brother-in-law lives across the pond...and my husband can't do all the work on his own, so the plan is to sell the building. We were so excited for the potential when we bought it a few summers ago...but now, we have to let it go.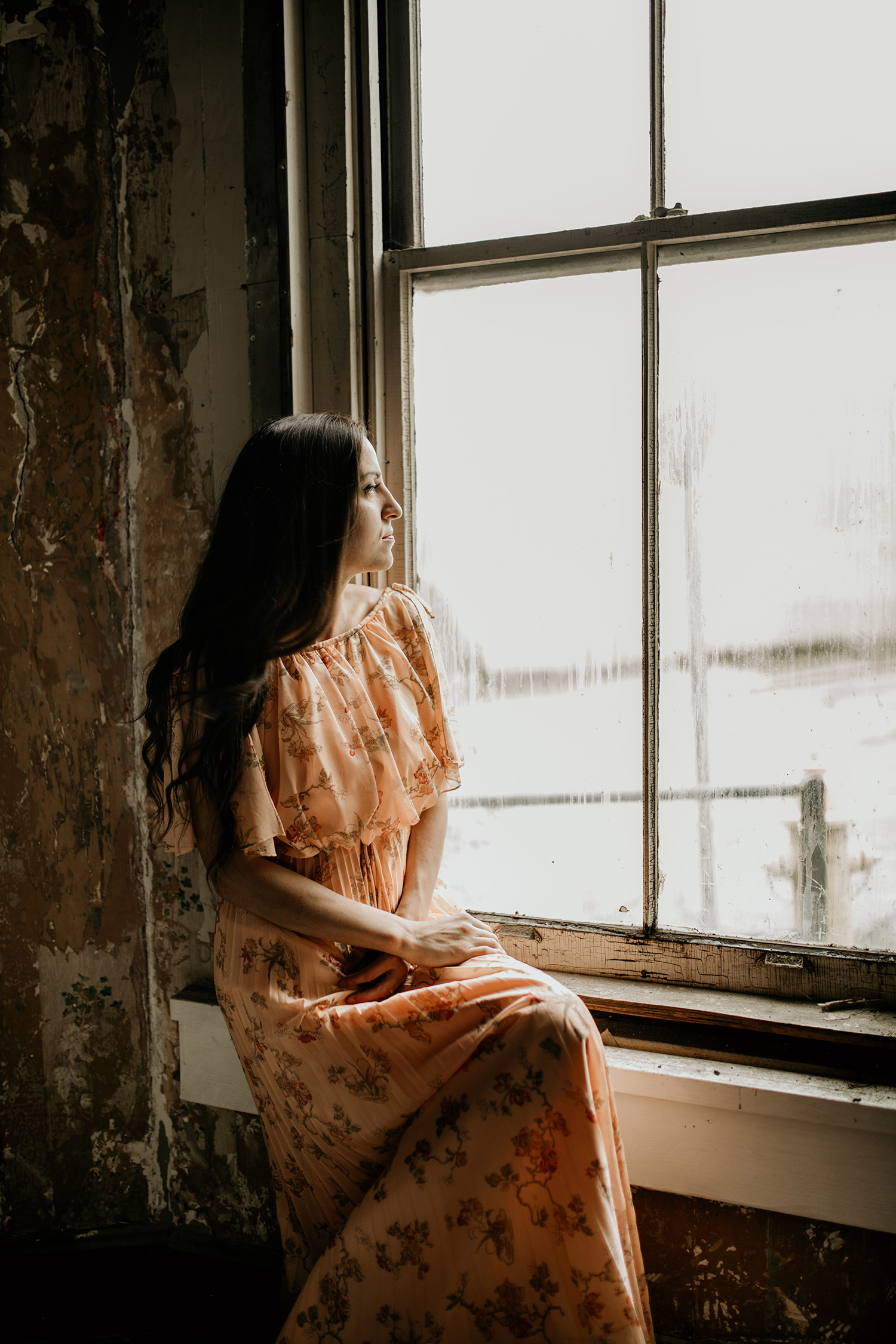 Teresa Vick
Graphic Designer since 2005 and natural light photographer producing mostly black and white images, some color, with a fine art style, located in Vancouver, WA, USA.
I love creating. I love finding beauty in the mundane and seemingly trivial. I love being a part of creating beautiful things.
I tend to be an over-sharer. So here goes. Music, movies, and imagery are God's gifts to me. I'm convinced these are the tools He chooses to communicate with me. I make mistakes everyday, try to clean up the mess alone, make it worse, then finally, as a last resort call on the One I should have in the first place. I'm desperately searching to fill the hole that only He can fill and everyday I become more convinced that it won't be filled here... and I can't wait to meet Him face to face. To finally meet who I was created for. To finally understand.