Cream Lace-Top Maxi
"When I (Jyotsna) created my collaborative group for the traveling dress, the vision I had in mind was to gather nine women who were hundreds and thousands of miles apart from each other, with completely different styles/voices, but yet come together to express how we see beauty, elegance, love, feminism, and ultimately strength through our art. I was extremely happy and overwhelmed with joy when all the participants agreed to be a part of this collaboration and worked together in unity and had so much fun along the way. We created a bond which I know will last for a long time! For my shoot; I asked a good friend to be my model for that day while I played with the use of light in portraiture as well as through environmental storytelling. Our dress traveled from Sacramento in Northern California, starting with me as the leader, to Megan Boggs in Tulare, Central California, then to Olga Levein in Auckland, New Zealand.
At this point our dress got lost in transit from New Zealand to Australia (enroute to reach our next participant Cindy Cavanagh). We decided to order another dress and were lucky to find an exact match! This time we ordered it and shipped directly to Amber Talbert in Texas to speed up the process.

It then traveled to Angee Manns in Missouri and from there to Holly Nicole in Michigan. From Holly; the dress traveled to Sarah Gupta in New York and from there to Sol in Spain. By this time, we found out from Cindy that the other original dress had arrived in Australia. We were happily surprised, and now had two dresses! With that; our dress had traveled across 4 countries and we wrapped up our project in less than 6 months!"
-Jyotsna Bhamidipati (Group Leader)
Sacramento, CA
Instagram | Website | Facebook
Megan Boggs
Tulare, CA
Wild Honey Photographer
"My time with the dress was short, but sweet. It had just rained that week in late February, and the ground was still damp from the nights shower. The sun had peeked out of the clouds that evening and bathed me in golden light, just warm enough to thaw my fingers and the tip of my nose. I danced in the winter air, chills running down my spine, hair blowing in my face – I felt free. A tiny break from the foggy winter, and a moment of silence to dance in the breeze." -Megan Boggs
Olga Levein
Auckland, New Zealand
Instagram
"The pink dress arrived at the time when I been in a deep rut as a photographer. There was no any inspiration or ideas what I can do with the dress. The gloomy weather not helped at all. I quickly took the dress to the little spot with trees near the playground where we used to go every day with kids. I changed into the dress and took a few self-portraits in the early morning, right after drop kids to school. Did I felt inspired look at images? Not at all, I sent the dress to Australia to Cindy Cavanagh, and had a look at photos only after a couple of months, when I feel good. It is an exciting project and indeed helped me to find to move through the rut. Such fantastic experience to be in the company with such talented photographers from all over the globe!" - Olga Levein
Amber Talbert
Dallas, Texas
Instagram
"

When Jyo asked me to be a part of this unique group of passionate creatives I was over the moon. My heart immediately felt compelled to do this with my oldest baby girl. My turn for the lace dress arrived sooner than I had expected so my daughter and I went to our favorite place, Rockledge Cliffs. Her and I sit here often and just adore the glowing sunset aqua blue waters and rocks colored like rust, this was our place and it seemed fitting to share something new together, our story with this dress in this sentimental place

." -Amber Talbert
Angee Manns
Ashland, Missouri
Instagram
"Right away when I signed up for the project, I knew I wanted to use my step-daughter, as she is one of my favorite models. She also happens to have a gorgeous baby girl, so it was a given that I would include her as well. For the other set I went darker, using an abandoned hotel in a nearby town, which I had been dying to photograph for some time. The traveling dress project was the perfect excuse to get out and use that location. I'm thrilled with how my vision came to life and it was an honor to work with the other ladies on this project." -Angee Manns
Holly Nicole
Imlay City, Michigan
Instagram
"My time with the dress was a beautiful evening at our home with my 13 year old daughter. She is very much caught between being a girl and a woman. I thought the fact that the dress was slightly too big was fitting for the moment. She is starting to blossom into womanhood, but doesn't quite fit that mold as she holds on to her playful, childlike innocence. I don't get a lot of alone time with her these days. But this time was ours, and it was precious." -Holly Nicole
Sarah Gupta
Manhattan, New York
Instagram
"I am a natural light photographer who specializes in emotive portraiture and environmental lifestyle photography with an artistic and fine art style. I try to find emotion and dramatic light when available in all of my images. I chose this location to photograph the dress because I love the outdoors and that is what embodies my work. I wanted to be one with nature and to feel the breeze off the water flow through the dress and awaken my senses." -Sarah Gupta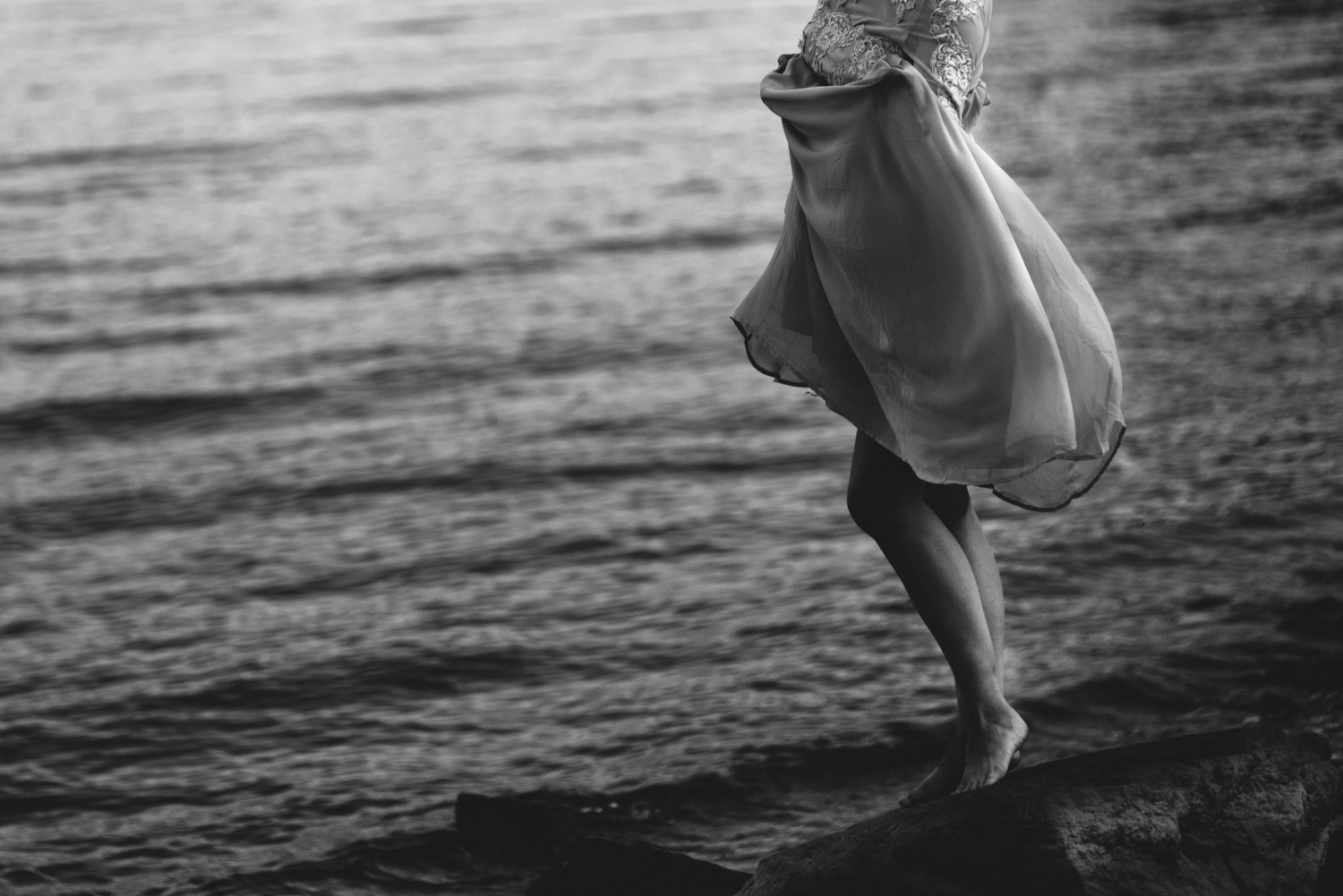 Sol Sanchez
Madrid, Spain
Instagram
"When I saw the dress, an image based on Renaissance paintings came to my mind. My girl gracefully accepted to pose for me, and together we created our interpretation of the Lady with an Ermine, by Da Vinci." -Sol Sanchez
Cindy Cavanagh
Sydney, Australia
Instagram
"My time with the travelling dress was put on hold as it got lost in the post. ARGH! We waited for three weeks and thought it wasn't going to show up. We decided to order a new dress and start again in the United States. I was added to the bottom of the list, and I had time to find my inspiration. Surprisingly, the first dress showed out six weeks later, and I was ready with my creative ideas. I worked with my daughter on this project. She is 14 and changing before my eyes. We wanted to capture something very Australian and went to our favourite walking trail at sunset. The light was kissing the trees, and it was just us in this quiet space. It was a magical moment, and we added a hat and boots to the dress to create a look that captures my daughter's essence at the moment. In the images, I sometimes see the girl who is becoming a woman, and sometimes I see a girl playing dress-ups. My mama's heart is swooning!" -Cindy Cavanagh
Teresa Vick
Graphic Designer since 2005 and natural light photographer producing mostly black and white images, some color, with a fine art style, located in Vancouver, WA, USA.
I love creating. I love finding beauty in the mundane and seemingly trivial. I love being a part of creating beautiful things.
I tend to be an over-sharer. So here goes. Music, movies, and imagery are God's gifts to me. I'm convinced these are the tools He chooses to communicate with me. I make mistakes everyday, try to clean up the mess alone, make it worse, then finally, as a last resort call on the One I should have in the first place. I'm desperately searching to fill the hole that only He can fill and everyday I become more convinced that it won't be filled here... and I can't wait to meet Him face to face. To finally meet who I was created for. To finally understand.